Just caught an interesting panel discussion on 'widgets and gadgets' at AdTech. Jeremiah Owyang moderated the panel, here are a few comments.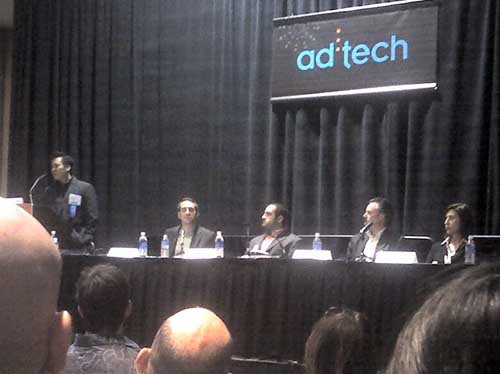 Jeremiah Owyang from Forrester Research
On the Facebook platform: fish where the fish are
But not all widgets are successful!
How many Facebook widgets have business utility?
Hooman Radfar from Clearspring:
Need to understand that widgets have different uses:

Public vs. Private consumption
Browser vs. Desktop
Social vs. Not

This (widgets) is a platform
Success metrics are tricky to identify. Treat it as a web channel.
Cross platform compatibility and measurement is tricky (e.g. Netvibes had no uptake/usage data until recently)
Challenge: it's a new medium. Old approaches don't always apply.
Kent Schoen from Facebook:
"we call these applications"
open up the field to allow other folks to design/deliver engaging interaction
what do you want to get out of your application?
Yes, the net is bigger than your site. Get your brand out there.
Success depends on how you define it: reach, interactivity, installs, active users on some regular interval.
Examples: Trip Advisor's map.. NYTimes quiz. Branded show & tell about the user.
Success is: something that provides value.
Jane Felice from ComScore
reach matters, we measure reach
measurement is still evolving

some function of repeat people over some number of days viewed
started with tracking SWF (flash) files, moved toward Facebook, just starting to measure javascript.

we can report on views, can't report on perceived value.
FREE: tag your widget in a certain way and we'll report on it.
Ed Davis from ESPN
'the internet is our playground'
widgets are inventory
It only works if people like what you're doing. You need to see the viral usage which happens when simple useful things are found valuable.
low barrier to entry: try things out!
Monetize: drive awareness for other ESPN offers
SEO lift is another amazing benefit from a rich widget offering
For us, more frequent data updates (scores) helped drive the uptake of our widgets
Uptake is like an impulse-purchase
Folks agree that valuable widgets tended to be successful, but couldn't really describe anything specific about what tends to constitute value. Seems also like these folks are struggling to define ways to measure the elusive 'engagement' metric that folks have been writing about recently.