Hello friends, here is a quick update on the voting trends on
netscrap.com
. Looks like the 'do nothing' camp has jumped ahead by 6.4% in the past few days. They're clearly trending higher lately. This trend seems to coincide with the dow dip (or is that dip dow? (sha na na would be proud)). Cause? Effect?
The Geo-breakdown tells an interesting story as well. Most of the 'buy beers' camp are in the bay area. This makes sense since they're the most likely to taste some of that beer. I've put a vague invite onto crush3r.com recently. Email me or post a note below if you want to be notified when it goes live.
Additionally, it seems like the folks outside the US are more interested in seeing a new feature as opposed to anything else. Personally, I find this refreshing. Let's pretend for a moment that there's a population of yet-to-be-jaded users floating around the net out there. Let's pretend that a few of those folks landed on netscrap.com and cast their votes for more scrap. End simulation.
Here's a sneak peek at the admin screen from vizu.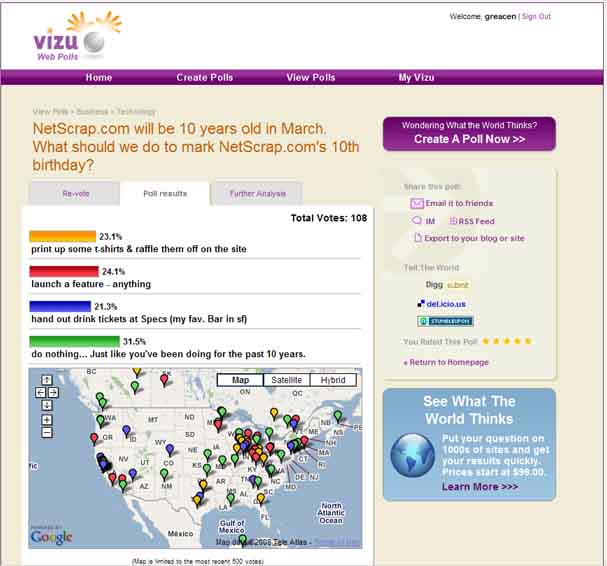 Is it possible that I've designed this poll in a way that naturally splits the audience unfairly? It seems like fans of the site will want a t-shirt as well as a new feature... some interesting reading ...
23.1%: share some swag
24.1%: launch a feature
21.3%: buy me beer
31.5%: continue lazyness quest